These were units on the Gold Coast.
The black laminated GLASS roof was too hot to sit under and relax with friends for a quiet drink. It also leaked when it rained especially after the recent storms.
The roof was pressure cleaned. A special glass primer was required (grey colour).
An extra primer (GI 962 Membrane Primer) was also added.
We siliconed around the perimeter.
Infracool Cool Roof Commercial White was then applied.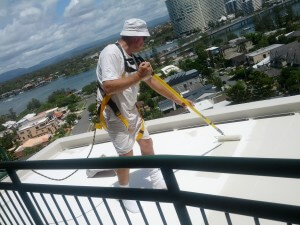 Two coats of exterior low sheen to match existing colour were the final treatment. 
The treatment above the glass was repeated on the lower surface for maximum cooling effect and no more leaks.