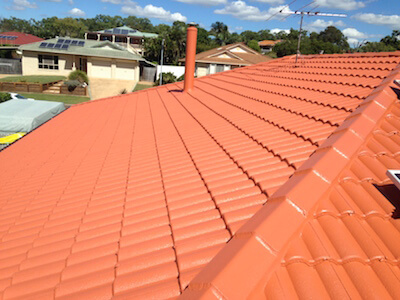 How We Restore And Cool Your Roof
We inspect the entire roof for damaged tiles,loose or missing bedding,moss and lichens.
Damaged tiles. Tiles deteriorate  through constant exposure to wind rain and sun.The UV rays from the sun will affect the painted surface and cause it to go powdery.
Have you seen those paint ads on TV?
Hail and sometimes people walking on the roof will cause the tiles to crack or pieces to break off.  Tiles can move  over time and become loose (especially along the valleys. We realign or replace those tiles.
Ridge capping is those special tiles along the peak of the roof and down the joins from the peak to the guttering. (Imagine a north facing side joining a west facing side to the roof).  We rebed and repoint ridge capping with a flexible acrylic pointing mix. Being flexible means it will withstand movement much better.
The entire roof then needs sealing. We have a range of specialty primers and sealers to suit specific conditions on your roof. The primer and sealer not only seals the surface of the tile ,it also helps the final paint to adhere better to the tile and so it will last much longer.
We use and recommend Dulux® InfraCOOL™ paint for the final roof treatment. It comes in a variety of colours and they all possess the same heat reflective technology

If you want your home to be much  cooler in Brisbane's scorching heat then fill in the form on the Contact page Now and Scott from The Cool Roof will phone you within 24 hours. This will reflect a major proportion of the sun's UV rays which are the biggest contributing factor to the build up of heat inside your house.